Currencies Configuration
NOTE: This feature may not function properly on your site as it undergoing ongoing development as there are many types of currency selectors and codes that need to be added to it.  If you urgently require this feature to work for you, please reach out to us and we will work with you to quickly implement a solution for you in the interim.
---
To toggle this feature, you can click the "Enable/Disable" button at the top of the page. You can do this once you have configured your currency relations and are ready to activate the feature on your store.

Currency Selection
There is a column here for every zone you create, except for those designated as a Block Zone (if any).

The drop down lists are automatically populated with the currencies list from your store.
If your currencies are not detected, click the Refresh Your Currencies List from Shopify button.
When you select a currency for a zone, a visitor's currency selection will be set automatically on the page, using the native currency selection feature.
You can click Save Currencies Configuration when you are ready.
More Configuration Features

You have the option of forcing the currency and hiding input history by enabling Remove currency selector from your pages. This will not modify your store in any way, only dynamically remove the selector
You can also Allow a visitor to select their currency. This will automatically set the visitor's currency based on their zone on their first visit. If they manually switch to another currency, it will not redirect them again. This setting lasts until the user session time expires.
Autodetection
NOTE: For this feature to work, your store cannot be password protected. If you cannot temporarily remove the password, you need to enter information into the fields manually.
This feature currently detects most SELECT/UL/OL configurations for currency selection. If you have a unique implementation, please click "Help Me" in the Currency configuration tab and we will try to include your markup style into our detection logic.
The app has an advanced feature that can detect most currency selectors with one click.
Clicking the Autodetect button will start a process where our back-end will detect your store's currency switcher configuration automatically. Clicking the button will reset the values in the fields entered and takes about 15 seconds to complete.

If detection is successful, it will display values and a preview (screenshot clip) of your drop down to verify that the correct currency was found.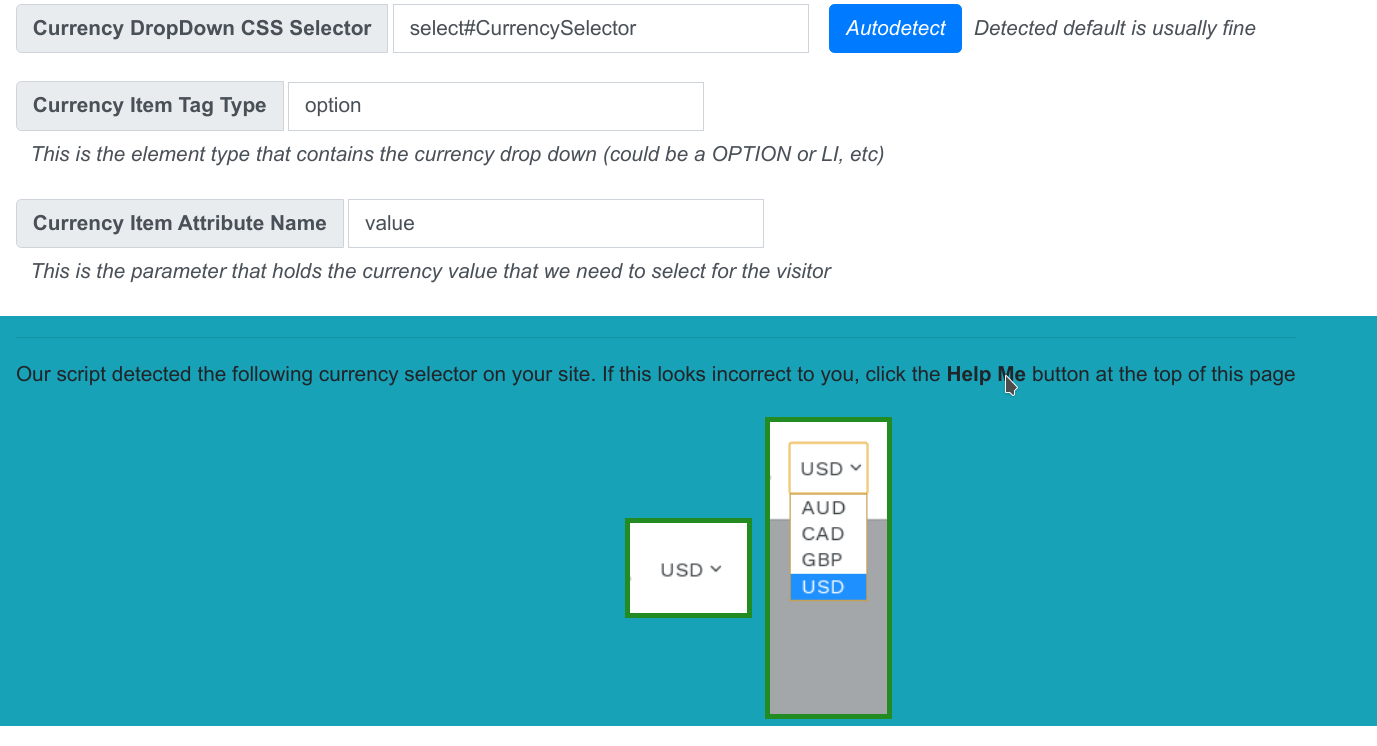 Currency Dropdown CSS Selector is an advanced setting. This should match a unique selection pattern for the drop down's main component (i.e. SELECT, DIV, UL, OL)
The Currency Item Tag Type is the tag name (LI,OPTION, etc) of the dom element that has to be selected for the currency to be changed.
Currency Item Attribute Name is the attribute on the Item Tag that contains the 3-letter currency code value.
For example if your markup is as follows:
	<select name="currency" id="currency_selector">
		<option data-value="USD">USD</option>
		<option data-value="CAD">CAD</option>
	</select>
You would enter the following values
Currency Dropdown CSS Selector: select#currency_selector
Currency Item Tag Type: option
Currency Item Attribute Name: data-value
The settings will auto-save upon being changed.