Redirects Configuration
To Toggle this feature, you can click the "Enable/Disable" button at the top of the page. You can do this once you have configured your URLs are ready to take the feature live on your store.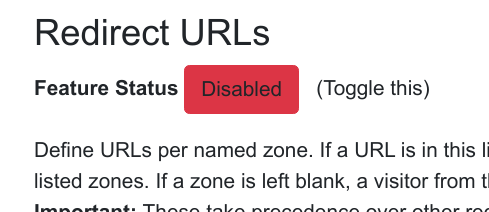 Redirect controls allow you to redirect visitors on a zone basis.
The redirection logic works like this - if a link is included anywhere in this list, a visitor will be redirected to their Zone-specific version of the page.
For example, if you have several About Us pages, you would add one redirect for each zone. If a user accidentally visits that page (through search engines or a link on the page), they will be redirected to their Zone's version of the page. 
A column will appear for every zone you create, except for the one indicated as a Block Zone (if any).
You can enter full URLs or absolute paths in this list:
e.g. 
https://mystore.com/this/page
/store/contact/us

As you edit content, more blank lines are added to the bottom of the list.  
You can click Delete to remove a line. All blank lines are cleared when the form is saved.
 Imagine you had multiple Contact Us pages:
/pages/contact-us
/pages/contact-us-australia
/pages/contact-us-europe
/pages/contact-us-asia
You can create a menu link to one of the pages (keeping a clean menu). If a user clicks on that menu link, they are automatically redirected to their zone-specific contact page information.
NOTE: The same URL can be included in many zones. 
Click Save Urls Configuration to save your changes.