One thing that many ecommerce business owners can agree on is that branching out your business to many different regions can only help your business grow, and that is the goal for many businesses that use the Shopify platform as well. This is one thing that we had envisioned when we had created the Advanced Store Localization add-on.
This application won't only help your store be more accessible to many different regions, but a lot of it will be automated for the visitor. Don't want products to be visible to visitors in the USA? We can help with that. However, the features that Advanced Store Localization can do are not limited to that. Let's go over some of the lesser known qualities that will make you consider getting this app for your business!

Exactly how much customization can be done for regions? - A lot!
That's the best part - If you want something changed, you can change it. You can make your United States store look entirely different from your Canadian store. There's many appealing features with Advanced Store Localization, including the ability to hide entire blocks for specific regions, or even changing contact details to match the region, which would be especially helpful if you have multiple locations. We also allow you a way to change the currency for each location, and customize it directly to your preference. No matter what you want changed, there is likely a solution that can be found within the ASL app! You can find more information about these features right here!
If you own multiple domains, we have features that can help using redirects!
One of the key features of the app is regional redirects. If you have pages exclusive for specific zones, or even domains, you can apply a rule which will force certain visitors - based on their IP, to go somewhere else entirely. Our redirect features can also be used as a method to block visitors from specific regions from viewing your shop altogether as well, and limiting traffic only to individuals who can purchase your products. Regardless of the size of your business, everyone has a useful way of incorporating redirects to their store!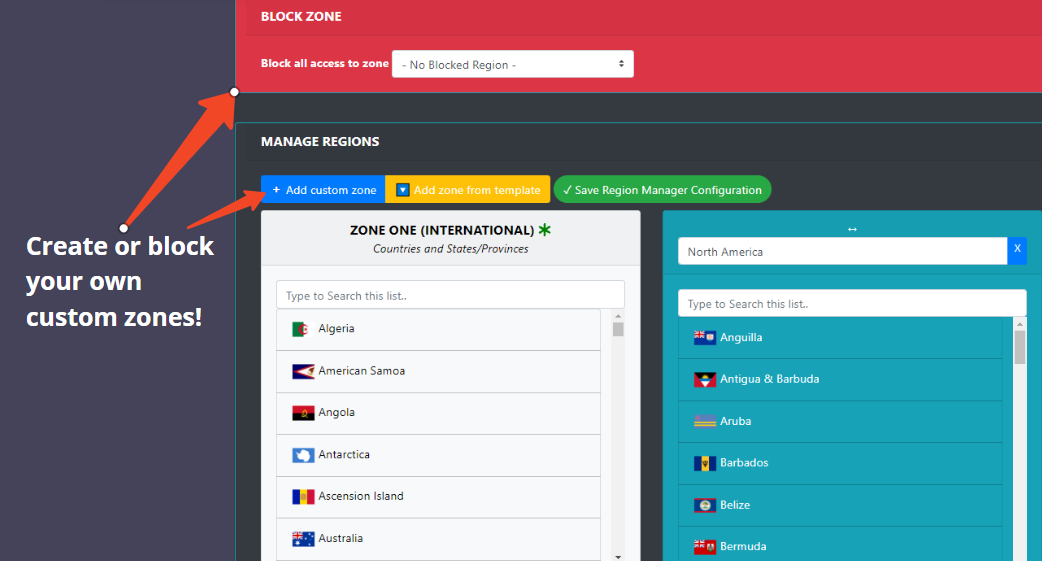 If you have a concern for how this app will affect SEO, you shouldn't!
SEO will not be affected at all, as this doesn't make an impact on your store directly. The rules will only begin applying and filtering the moment that specific visitor accesses your website. With the rules being enforced based on the IP address, you can have a store specific for that region, and maintain your high quality SEO as well without concern!
Is there a lot of configuration that needs to be done to get the app to function properly?
While we are in the process of working on a big update which will identify all of the selectors needed to automatically suit your theme, currently, the tech support team handles all setups directly for you when you sign up. This process is done almost immediately, so very little work needs to be done on your end - just toggling the features to enable, and filtering based on your preferences. The way our filtering works is very fast and user friendly. We have many different ways you can filter - just pick the one that is easiest for you!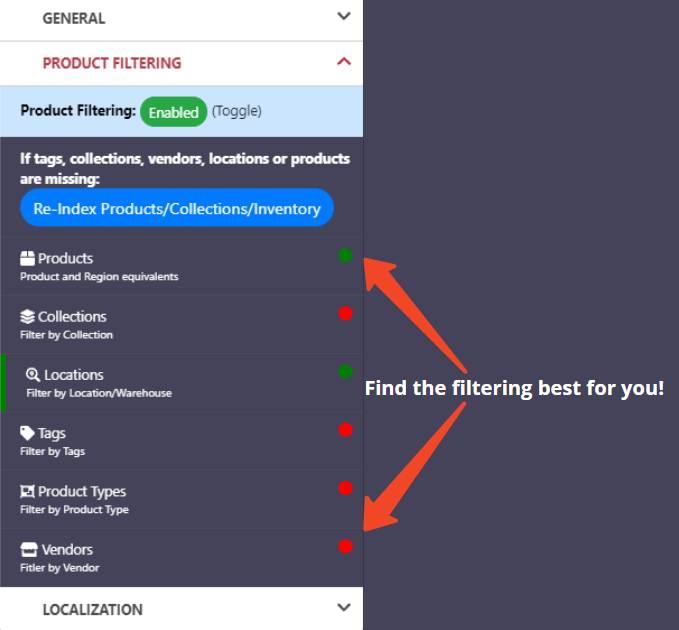 Do you have a love for custom code?
While most business owners will seek to have things set up quickly and get things running on their store, there are some that will want to add in more customization options. We have an area which will allow you to add custom JavaScript, and there are several areas you can customize as well, such as the cart. If you have a love for code, we do offer a lot of ways to do just that. Our customer service is also very responsive, so if you ever need to discuss if something is possible or not, reaching out to us is never a problem!
---
Advanced Store Localization is a constantly expanding application!
It's worth noting that new features are being worked on everyday, and this app will continue to expand for as long as there's features to implement! With a big update coming your way, you can expect a lot of quality of life changes, as well as integration of new and exciting features which we are eager to release.
There's a lot of wonderful apps out there that let you change your Shopify store and mold it into a business you always dreamed of having. This endless market of applications help make every store unique, and can help your store stand out amongst many. If you have a vision for your store that hasn't yet been met, looking towards apps can always help you achieve that goal. With Advanced Store Localization, you'll be able to expand and create the store best fit for each region you sell to.
Now that you've seen what ASL has to offer, think about how these features could expand and lead your growing business in a new, expansive direction. We offer a 7 day free trial for anyone who wants to see how this could benefit their store, so give it a try today!